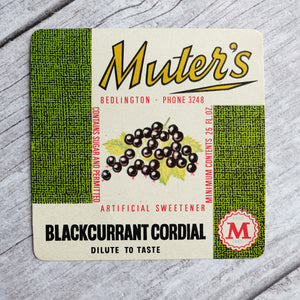 This vintage label is for the soft drink Blackcurrant Cordial made by Muter's (Established 1883 Bedlington).
Designed to go on a soft drinks bottle the label has not been used.  I'm not sure when it dates from but the design looks 1950s to me.  It has the slightly musty smell of old paper and is unused but has been stored so may show signs of wear as with all vintage.  Printed in colour on non-gummed paper.

Suitable as a photography prop or for craft or decorative projects.
Measures approximately 9cm by 9cm.